How to Have a Hand Made Wedding
There's no bigger day in your adult life than your wedding day and making your own handcrafted stationery, favors and decorating items is a perfect way to make your wedding more personal and truly unique.
The options are almost unlimited for adding your crafts talent and passion to all aspects of your wedding, but there's a cost.
It's not always less expensive to make handcrafted items for your wedding, althought you will have more control over the design and quality. And if you decide to hand craft many of the items for your wedding it will take more time from your schedule than if you buy them ready made.
You need to allow plenty of time and money if you want to have a handcrafted wedding. You don't want to add more stress to your plans and preparations, and if you aren't a whiz with crafts or don't have the budget for your crafty items you may end up disappointed or stressed out.
So think it out before hand and then if you're comfortable with the costs in money and time, go ahead with your plans to make handcrafted bespoke wedding items. If you can only use a few handmade items, that's fine. It's more important to have a happy day and an affordable wedding.
Wedding Invites, Stationery, Table Decor, Favors
You can design your own save the dates, wedding invites and other stationery, favors, and wedding accessories. Your options range from totally doing it yourself and printing at home to using professional design templates and adding your own personal details and flair.
Wedding Favors
Handmade favors and favor tags are some of the most popular wedding crafts. You can buy the basic favors, design your own favor tags and attach tags with ribbons and decorations that coordinate with your colors and themes.
At Zazzle you can design your own Party Favor Candy Tins using personal graphics or start with a favorite design and add your wedding details. You can even order custom candy to fill the tins and jars.
Wedding Coloring Books
A popular and practical favor for child guests at your wedding or reheasal is a personalized wedding coloring book. You can easily make your own special kids favors from printable wedding coloring pages.
If you're handy with desktop publishing or scrapbooking, you can design a special cover to go along with your pages. Assemble pages and covers by stapling or punching and add ribbons to bind the pages together.
Wedding Party Tee Shirts
Have some fun making your own tee shirts for the bridal shower, bachelorette party, or rehearsal party. Use wedding clip art or printable iron on transfers and tee shirts from your favorite craft store or retailer.
Wedding Gown or Dress
Tuxedo, Vest, or Casual Attire
If you want a very sophisticated wedding outfit or gown, and you have the seamstress skills to make your own then this is a big way to add a hand made touch to your wedding.
If you have some doubt about whether you have the skill or time to make the dress or men's attire, you could design them and hire a dressmaker or tailor to do the actual sewing and fitting for you.
Veil, Headpiece, or Hat
A handmade veil or handcrafted headpiece or hat will be easier to tackle than a women's wedding dress or a men's vest, bowtie, and cumberbund.
You can find materials and patterns for many different styles, from simple headband styles to caps with long tulle or embroidered lace veils to hats of all different types. For men, let the style of your wedding dictate headwear. You can wear a tophat or no hat!
For a garden style BOHO affair, a crown of flowers or a single tropical flower over one ear may be just right for women.
Guestbook Wishes Signature Mat
Use a photo or painting of the wedding location or choose a photo of you and your partner. Frame the picture without glass inside a wide, light-colored mat or order a canvas print.
Have guests sign the mat area and leave a fingerprint instead of signing a guest book. Or, decorate a blank guestbook with fabric, ribbons and silk flowers.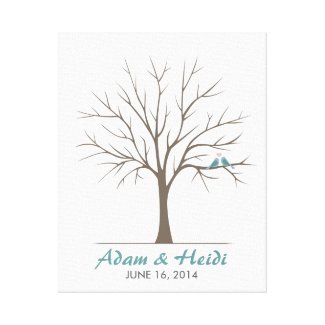 Wedding Fingerprint Tree Classic Love Birds Stretched Canvas Print by lovliday at Zazzle
Reception Table Centerpieces
If you're having a theme wedding you might enjoy designing table arrangements to craft then having members of the family or wedding party help make as many as you need.
DIY Wedding Resources
Make your own invitations and thank you cards with wedding graphics and clip art borders. Design table cards and food flags, make favors for guests, and create a personalized greeting sign or banner.
Craft a wedding scrapbook or honeymoon memory book with paper craft printables.