Fire Island Lighthouse Coloring Page
I drew this basic drawing sketch of the lighthouse at Fire Island from a photograph I took about 8 years ago. You can use this as the basic drawing for your own water color, acrylic or other media artwork.
Print the sketch artwork onto plain paper or appropriate art media, then dabble away on the colors and details.
Suppliers sell a variety of fine art media sheets you can print using an ordinary inkjet printer, for example Printable Art Canvas Sheets.
I've also experimented with watercolor paper in my home printer with good results.
The PDF for this drawing is sized to print on 8.5 x 11 paper, but it can be enlarged if you have a wide format printer available to print artist media.
I've included a copy of the original lighthouse and beach walk photograph above, so you'll have a color and shading reference.
The printed sketch will not have copyright information printed on the picture.
Fire Island NY Lighthouse Art Sketch, ready to print and paint or color in or embroider.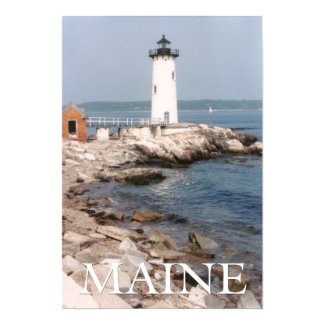 Maine Lighthouse Poster by imagefactory
Browse other Lighthouse Posters